HAPPY EASTER! What a wonderful weekend it was with gorgeous weather. Even though Easter weekend is coming to an end here are some things you can do this upcoming week.
PICTURE PERFECT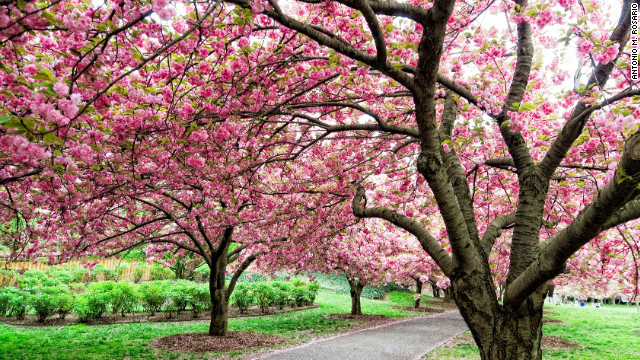 When the spring breeze gently blows, cherry blossom petals flutter and makes a magical scenery that makes you wonder if it's lightly snowing on a spring day. One of the beauties of spring is definitely the amazing site cherry blossom trees create. Brooklyn Botanic Garden is the place to go to enjoy the spring breeze and walk through the shower of pink petals falling gently from the trees. Spring is here but will be gone soon, so don't miss this year's cherry blossom beauty.
WHERE: Brooklyn Botanic Garden (1000 Washington Ave.)
WHEN: Open until April 29 but sooner the better before the petals all fall off!
————————————————————————————-
MUSIC+ART+TECH=?
Kraftwerk meets MoMA. Over 8 days, the band will hold a live performance and 3-D visualization of one of their studio albums. The performances are sold out, but you can still get some of Kraftwerk at MoMA's exhibition and see their visual and audio work.
WHAT: KRAFTWERK
WHERE: MoMA (11W.53rd St.)
WHEN: April 10-May 14
Click here for more information
————————————————————————-
NO WORDS NEEDED…JUST LISTEN
http://youtu.be/98MZpEBbJrU (listen to her work)
Called as one of the most distinctive pianists today, Mitsuko Uchida is coming to Carnegie Hall. She is "an elegant, deeply musical interpreter who strikes and inspired balance of head and heart in everything she plays," (Chicago Tribune). She will be performing 3 sonatas written only 2 months before the composer, Schubert's death.Is it just me, or does she just go so well with the cherry blossoms and the beauty of spring?
WHAT: Mitsuko Uchida
WHERE: Carnegie Hall (154 W. 57th St.)
WHEN: April 11 @ 8pm
TICKETS: $20-$122 (Buy tickets here)
Click here for more information
————————————————————————————
TIME TO SPLURGE
If you've been to and loved, yet want a change of scenery from Eleven Madison, The NoMad may be perfect for you. It's runned by Chef Daniel Humm and Will Guidara…the guys who run Eleven Madison so you know what to expect. The NoMad has 5 separate, elegant rooms and features dishes of rabbit spaetzie, suckling pig and chicken-for-two with black truffles and foie gras (im already hungry just by listing these) .. Warning though. You're bill's not going to be too light so be ready for it!
WHERE: The NoMad (1170 Broadway, near 28th Street)