Dine OUT on the streets?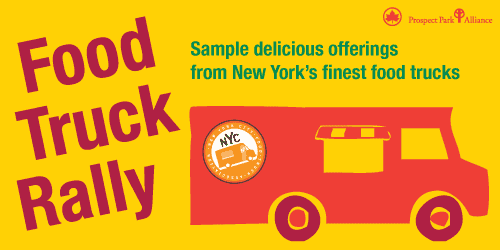 Either it be for lunch because you don't have time to sit down and have a proper meal, or because you're new to the city and think having food on the streets is just weird, going to New York City's Food Truck Rally is a fun place to go on a Sunday. Many of the best food trucks are coming to Prospect Park so people can sample their treats. I personally am going to go because I love their delicious food, fast service, and reasonable prices. However I always have the same food from the same truck. This is a chance for me and you to explore other options! 
Food trucks scheduled to be at the rally TODAY are:
Big D's Grub
Coolhaus
Cupcake Crew
Eddie's Pizza Truck
Frites n Meats
Gorilla Cheese
Kelvin Natural Slush
Kimchi Taco Truck
Mexicue
Milk Truck
Pera Turkish Tacos
Red Hook Lobster Truck
Rickshaw Dumpling Truck
Valducci's Original Pizza
Van Leeuwen Ice Cream
Wafels & Dinges
I'm not going to say which one, but I already see 3 of my FAVORITE trucks. So check it out today!
WHAT: FOOD TRUCK RALLY
WHEN: TODAY, May 27, Third Sunday of June, July, August, September and October  (11a.m.-5:00p.m.)
WHERE:  
Grand Army Plaza (
Flatbush Ave and Prospect Park W at Eastern Pkwy 
Brooklyn, NY)
Click here for more information 
—————————————————————————————————————
Room Full of Comfort and Creativity 
Ladies tired of wearing skin tight clothes decked out in stiletto heels, lets take a break from it and chill out in comforting gear and accessories. Creatures of Comfort teamed up with Sight Unseen -an online magazine that is all about creativity. They created a Sight Unseen pop-up in the gallery space of Creatures of Comfort's NY store called the Sight Unseen Shape Shop. Enjoy the space filled with creativity and get your credit card ready while at it.
WHAT: Shape Shop (Sight Unseen + Creatures of Comfort)
WHEN: Through May 6th
WHERE: 205 Mulberry St., b/t Kenmare & Spring Sts
Click here for More Information 
————————————————————————————————-
GET OUT OF YOUR APARTMENT!

Did everybody have a good time outdoors over the weekend? Having a picnic at Central Park, biking along the West Side, or even going to Battery Park to just get away from the city… these are the thing we do on the weekends. During the week you can still spend some time outside after work, but you'll probably want a beer to get your mind off of that excel spreadsheet. I prefer going to meatpacking during the week rather than the weekend- it's getting a tad too Jersey Shore-esque (just my opinion). Standard's Biergarten is the go-to place for a glass of beer or even a little more than that. 
WHERE: The Standard's Biergarten (848 Washington Street between 13th St. and Little W 12th St.)
WHEN: Open from 4pm-12am Monday-Thursday, 4pm-1am on Friday, noon-1am on Saturday, noon-12am on Sunday