The following article is a guest post, courtesy of Bronson Farr
Interning at CMB has given me a lot of insight into what really goes into running a dating app (one of best according to iTunes). It's also fun because my friends and family always ask me, "Do you get to pick all of your matches?" And the answer to that is no, with some laughter added in.
I've recently decided that I was ready to start dating after getting over a past relationship. I won't get into too much about it except for the fact that there was a bit of emotional scarring, and that it does take me a while to get over things like breakups. I didn't feel completely free and ready to mingle until a year and a half after my relationship ended.
But the world of online dating is relatively new to me. I've been a CMB member for a little over a year now, and out of those 365 days that I've gotten matches, I've been only connected with 10 people. Normally I would just joke to myself that the ladies who have said no to me can't handle my sheer sexiness, but I'm sure they had their reasons for passing on me. That being said, I usually hit the like button whenever I get a fresh bagel.
One day in June, I got match with a lovely young woman who worked at Microsoft. We connected and started talking through CMB's new messenger feature on their app, which made things a lot more convenient than the old third party text you would get. We just had some small talk for a day or two about our backgrounds until she suggested meeting up one day. Naturally I said yes, and told her about my favorite Thai place in downtown San Francisco (and, no, it's not  pronounced "San Fran" to our visitors). She was down for Thai and we decided on a day that worked best for us. We exchanged numbers to make sure we would still be in contact should there be any confusion on our meeting place.
The feeling you get when you have the chance to go out on a date with a girl you met online is comparable to that of a giddy schoolgirl getting ready to go to her first Justin Bieber concert. As you can imagine, the day of the date I woke up excited. I put on my best button up shirt, a nice pair of jeans, and Nikes that complimented my outfit. My whole day in the office was kind of a blur because I was getting ready for the night, arming my arsenal of puns and conversation topics. Finally, the work day was over, and I was off on my adventure for the night.
We met at the cable car turnaround on Powell St. across the street from the mall. She was wearing a yellow dress and had a smile on her face as bright as the sun. I jokingly told her that the restaurant we were about to walk to was in the Tenderloin (one of the poorer areas of SF), and she laughed along as we walked a couple blocks to our destination.
We were seated immediately upon entering the restaurant. Scanning the restaurant, I noticed it was fairly busy for a weeknight, but that didn't seem to bother me. I was on my first date in over a year and was already having a great time. We looked at the menu, and a few jokes and 10 minutes later we decided on splitting spring rolls, pineapple fried rice, and a bowl of mild green curry.
During the meal we discussed how we happened to find our current occupations. She had interned at Microsoft before getting hired; she had gotten the chance to work at Tesla before moving to the Bay Area. It was pretty interesting to hear about what she did at Microsoft. It was stuff I would never be able to do, but I do give her mad respect for going into the tech field. She joked about being one of the only women in her department, talking about how much of a sausage-fest it was. I compared that to the online dating scene and how CMB set out to change the image of online dating. I used a few puns from my arsenal and got her laughing a bit to lighten up the mood. In short, we had a great conversation over dinner.
When we had finished eating I used the restroom, and when I got back I had found out she had already taken care of the bill! I immediately thanked her and asked why she paid. Her response: she believed that men shouldn't always have to pay on the first date. I was cool with that, but I felt that I should pay her back for getting the bill. I suggested getting a cup of coffee to end the night.
We found ourselves sitting at the nearest Starbucks continuing our conversation from dinner; this time I made sure I paid for our drinks. I was still using some of my puns, which to my surprise still had her giggling. We talked about how she had to wake up early for her job and how she spent most of her day at work. It wasn't a buzz kill for the night, but it did serve as a reminder that we couldn't stay out too late.
After our coffee session, we hopped on BART to get home. She was heading to Milbrae, and I to Daly City. We were both tired, but knew we had a great time. It was hard to talk on the ride back because of the noise the train generates when it goes through the tunnel. When we got to my stop, I said goodbye and gave her a hug and was on my merry way. We texted each other later that night to make sure that we both got home safely. We talked about grabbing a cup of coffee on another day, but we still have yet to do that.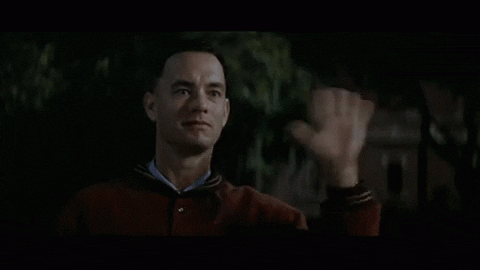 The overall experience of going on an actual date was exciting. And by "actual date," I mean meeting a girl who I have just connected over a dating app, and going out with her. I can see why online dating is becoming more mainstream these days, especially among people my age. As a young 20-something who is trying to start my life, finding a relationship is not always my top priority – but dating apps make the process very easy.
As for me, I'm still going to be liking every bagel I get. Don't get me wrong though, I would still love to, and plan to meet up with the girl from Microsoft for that cup of coffee we talked about.
About Coffee Meets Bagel (CMB): CMB  is a free dating service that helps members make meaningful connections. It's designed for busy singles who want to find something real with little or no effort.