If dating is a game, I like to think it's a bit like Bingo.
It has a sense of surprise, an unknown timeline, an individual way of keeping score, a huge payout and a bunch of ladies having fun with the balls.
And those ladies are doing it right.
Just like in the dating world, the best players keep an open mind about whatever comes their way.
I've learned that each number the dealer calls yields a purpose and each date you go on helps get you one step closer to a long-term partner. The more numbers you play with, the better your odds.
So keep an eye out for these very-real numbers. These three men will teach you things you need to know on your journey to Jackpot – and make the trip that much more fun.
The Three Men You Should Date Before Settling Down
The International Man of Mystery
Who is he: wealthy, foreign, seductive.
Whether it's his smooth accent or worldly knowledge, the International Man of Mystery instantly thrills you. He is the kind of man to pursue you aggressively, confidently and without instruction. The International Man of Mystery doesn't ask you out; he tells you where to be, when to be there, what to wear and what to order. Your conversations about your different backgrounds and perspectives serves to not only enlighten you, but make YOU feel more exotic and interesting. While you easily get caught up in the whirlwind, you know you're never the only woman in his life. This globetrotter is a man of the world, and from him you learn you want to be more than someone's layover.
End it when: He proposes a threesome; he travels for business, never to be heard from him again.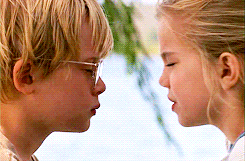 The Expiration Date
Who is he: trustworthy, teaching, a true friend.
Dating the Expiration Date is like starring in your own coming-of-age movie. He teaches you things you've always wanted to know and does things with you you've always wanted to try; helping you move from point A to point B in life. He is exactly who you'd want to wind up with, except for that one "but." …But he's moving. But you're moving. But you're not ready yet. But your families won't get along. For some reason, it has to end and it will end. And because, ultimately, it won't work out, every interaction you share is that much more heightened and noteworthy. When eventually you part for good, you'll feel heartbroken and also wiser. More ready for whatever's next.
End it when: time runs up; there's no denying there's no future.    

The Peter Pan
Who is he: excitable, hero-obsessed, mama's boy.
Being with the Peter Pan is for the time in your life when you start thinking about taking care of someone else. His youthful outlook and silly humor brings out your nurturing, wise and mature side. He makes you feel comfortable in your ability to be a caregiver. Because it's not that the Peter Pan doesn't want to grow up, it's that he wants to jump from the care of his mother to the care of his girlfriend or wife. Though he may have a successful career, grown-up possessions or manly features, you'll eventually see his dependency for what it is. And you need someone who can equally care for you back.
End it when: he makes you do his laundry; his mother yells at you

NOTE: We acknowledge at some point, some women WILL settle down with these types of men. And we wish them luck.
Feeling ready for love? Read the 38 Times Love is the Best.
---
About Coffee Meets Bagel (CMB): CMB  is a free dating service that helps members make meaningful connections. It's designed for busy singles who want to find something real with little or no effort.